The Binding Chair: or, A Visit from the Foot Emancipation Society
by Kathryn Harrison
Reviewed by Margaret Donsbach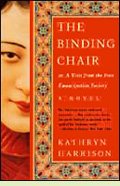 The Binding Chair is about the physical and emotional effects of foot-binding on a Chinese woman born in the 1870s and her family. Harrison's novel does not flinch from the brutality of the foot-binding system, but recognizes the complexity of the emotions stirred by it. "A bound foot is a foot broken: a foot folded in the middle, toes forced down toward the heel. Were an admirer to consult Fan Hsun's Classifications of the Qualities of Fragrant Lotuses, he would find May's feet plump, soft, and fine in the classic style of the Harmonious Bow. They were perfect with regard to all nine criteria of excellence, and she cared for them with the respect due objects purchased at great price."
Rebelling against the Chinese husband to whom she is a nonentity, May flees to the comparative shelter of a house of prostitution. There she meets the Australian Jew, a representative of the Foot Emancipation Society, who falls in love with her, paradoxically seduced by her tiny, misshapen feet.
The story moves continually back and forth in time. The Binding Chair opens with the widowed May interviewing potential swimming teachers on the Riviera in 1927, for a project whose purpose is not completely clear until the final chapter. Then it shifts backward in time to the point of view of the niece who has been as close to May as a daughter, during their first separation as the niece travels across Siberia on her way to a London boarding school, before shifting farther back to May's childhood and the torturous experience of the foot-binding process. Harrison describes the process frankly enough to horrify readers, but without lingering on the details. She treats May's struggles as a grown woman with similar openness and restraint, portraying a woman who strives, not always gracefully, to transcend victimhood. 2000, 312 pages.
More about The Binding Chair from Powell's Books

Other novels about Chinese women and foot-binding:
The Three-Inch Golden Lotus: A Novel on Foot-Binding by Feng Jicai (1985). More info
Snow Flower and the Secret Fan by Lisa See. More info

Nonfiction about foot-binding:
Aching for Beauty: Footbinding in China by Wang Ping (2000). More info
Every Step a Lotus: Shoes for Bound Feet by Dorothy Ko (2001). More info
Cinderella's Sisters: A Revisionist History of Footbinding by Dorothy Ko (2005). More info