The Best of Men
by Claire Letemendia
Reviewed by Annis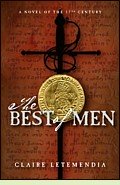 "The best of men cannot suspend their fate: the good die young and the bad die late". So said Daniel Defoe, whose novel Memoirs of a Cavalier features, like Letemendia's, a protagonist who fights in two major conflicts of the seventeenth century: the Thirty Years War on the European Continent and England's Civil Wars.
In 1642 Laurence Beaumont returns to England, numb in spirit after six years fighting on the Continent. He's been at times a common soldier for both Catholic and Protestant armies, a spy, and a cardsharp, making use of his uncanny aptitude for games of chance. He's experienced all the atrocities of war and lost any faith he once possessed in humanity, noble causes and God. Seeking reconciliation with his family and a peaceful life at home, he finds to his dismay that England too is in turmoil, on the verge of revolution. Reluctantly, he is forced back into war's chaos.
Beaumont is a dashing aristocratic hero, clever and cynical. Hiding the nightmares of his past behind a mask of careless indifference that intrigues women and infuriates men, he becomes an agent for Secretary of State Lord Falkland, an idealistic politician dedicated to brokering peace between the intransigent King Charles and his rebellious Parliament. Beaumont discovers a plot to kill the king but must solve a cryptic puzzle before he can identify the conspirators. At stake is not only the king's life but his own. Meanwhile, constant intrigue and duplicity undermine Falkland's conciliatory efforts. Civil war becomes inevitable.
First in a planned trilogy, The Best of Men is a political thriller on an epic scale with a large cast of richly drawn characters. Despite its size, dense historical detail and complex plotline, it's a riveting read, full of action and suspense, and remarkably hard to put down. (2009; 692 pages, including a Historical Note and List of Main Historical Characters)
Listing for The Best of Men at Powell's Books or Amazon.com

Other novels about the English Civil Wars:
As Meat Loves Salt by Maria McCann (2005). Review or More info from Powell's Books
Rebels and Traitors by Lindsey Davis (2009). More info
London in Chains by Gillian Bradshaw (2009). More info

Nonfiction about the English Civil Wars:
A Brief History of the English Civil Wars by John Miller (2009). More info
England's Troubles: Seventeenth Century English Instability in European Context by Jonathan Scott (2000). More info
By the Sword Divided: Eyewitness Accounts of the English Civil War by John Adair (1998). More info

At the Movies:
To Kill a King
, a 2003 film directed by Mike Barker and starring Dougray Scott as Thomas Fairfax and Tim Roth as Oliver Cromwell, about the friendship between Fairfax and Cromwell which becomes strained to the breaking point by the brutality of Cromwell's Puritan reforms.

Online:
English Civil War article at Wikipedia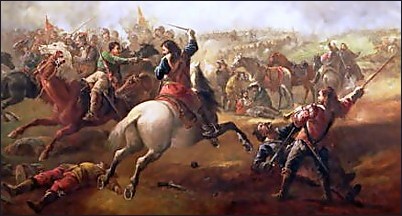 Back to Historical Novels: 17th Century

Back to Directory of Book Reviews