Berlin Noir: March Violets, The Pale Criminal and A German Requiem
By Philip Kerr
Reviewed by Susan Gillmor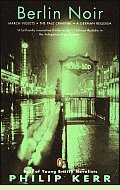 In Berlin Noir, Philip Kerr delivers a trilogy of detective novels in the best Marlowe/Spade tradition, but with intriguing twists. Hard-boiled cop-turned-P.I. Bernhard "Bernie" Gunther practices in Nazi Berlin. "I used to love this old city," he says. "But that was before it had caught a sight of its own reflection and taken to wearing corsets so tight that it could hardly breathe." Although he regards the Nazis with disdain, he takes a job from Hermann Goering because "you don't turn him down, not if you want to finish your cigarette with both lips."
In the first story, March Violets—a derisive term for latecomers to the Nazi bandwagon—a search for stolen diamonds takes center stage. It is 1936. The Nazis are busy hiding evidence of their atrocities for the imminent Berlin Olympics. Extortion, murder and mayhem follow the theft, and Bernie's investigation leads him to a stay in Dachau.
The Pale Criminal jumps ahead to 1938. Bernie's tone becomes less flippant when a Gestapo honcho blackmails him into rejoining the police force to hunt for a killer targeting teenage Aryan girls. Searching Berlin's seamy side, he discovers the underworld now inhabits the upper echelons of the Third Reich. His detective work cannot, in the end, prevent the infamous Kristallnacht from ripping apart his city.
A German Requiem takes place in 1947, with Berlin resembling "a colossal Acropolis of fallen masonry and ruined edifice, a vast and unequivocal megalith to the waste of war and the power of 75,000 tonnes of high explosives." More a spy tale than a detective story, its tenor is the blackest yet and leads Bernie out of nightmarish Berlin and into Vienna, working (under duress) for the Soviets, yet still uncovering the lingering rot of Nazi evils.
Berlin Noir delivers a rare and gritty microscopic image of WWII Berlin and the corruption and annihilation that afflicted its citizenry. The collection is ingenious, unspeakably sad, and memorable.
More about Berlin Noir from Powell's Books

Other detective and espionage novels set during the World War II era:
The Key to Rebecca by Ken Follett (1985)
The Spies of Warsaw by Alan Furst (2008)
A Small Death in Lisbon by Robert Wilson (1999)

Nonfiction about Berlin under the Nazis:
This is Berlin by William L. Shirer (1999), transcripts of Shirer's daily news reports for CBS Radio from pre-war Berlin from 1938-1940.
The Forger: An Extraordinary Story of Survival in Wartime Berlin by Cioma Schönhaus (2008), about a Jewish graphic artist in wartime Berlin who eluded the Nazis and forged IDs for Jews, saving hundreds of lives.
Berlin Games: How the Nazis Stole the Olympic Dream by Guy Walters (2006), about the Olympic Games in Hitler's Berlin in 1936.



Back to Historical Novels: World War II

Back to Directory of Book Reviews