The Bellini Card
by Jason Goodwin
Reviewed by Margaret Donsbach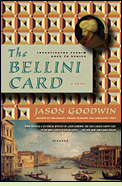 The Bellini Card opens with a description of a corpse that's among the most beautiful in the mystery genre. "He sank slowly through the dark water, arms out, feet pointed: like a Christ, or a dervish, casting a benediction on the sea. The stone at his feet hit the mud with a soft explosion, his knees buckled, and in a moment he was bowing gracefully with the tide. He had always been graceful, pliant, too, when fixing a price, a man who traded and left something in the deal for the other fellow."
Featuring a eunuch who investigates crimes for the Ottoman sultan, The Bellini Card is #3 in the "Investigator Yashim" series. This time, the corpse appears in Venice, a fascinating locale for an Ottoman murder mystery, given the centuries-old connections between Venice and Istanbul (formerly Constantinople, capital of Byzantium). In 1840, a new, young sultan has come to power in Istanbul. He has learned that a painting of Mehmet the Conqueror, his grandfather's grandfather, by fifteenth-century Venetian artist Gentile Bellini still exists. Although portraits are forbidden by Islamic law, the sultan wants Yashim to seek it out and buy it for him.
A sultan's order must be obeyed. However, as his vizier points out, certain orders fall into a special class. "Watery commands. Written on water, Yashim." Yashim's friend the Polish Ambassador (himself a watery fellow, since Poland, carved up by various powers, no longer officially exists) comments that he's "in a fix," bound to antagonize either the sultan or his vizier. Yashim proposes a neat solution, and the ambassador sets out for Venice.
Venice, "Istanbul's alter-ego in the Mediterranean" (as Goodwin has said), is in a state of decay that is beautiful, sad and, for those who stay more than a short time, even sickening, not unlike the corpse in the harbor. Goodwin evokes it masterfully while serving up a mystery as complex and labyrinthine as its Byzantine characters. (2008; 307 pages, including an author interview discussing the history behind the story)
More about The Bellini Card at Powell's Books or Amazon.com

Other mysteries set in Venice:
Interrupted Aria by Beverle Graves Myers (2004), featuring a castrato singer in eighteenth-century Venice; #1 in the Baroque mystery series. More info
In the City of Dark Waters by Jane Jakeman (2006), featuring French Impressionist painter Claude Monet; #2 in the Monet mystery series.
More info
Alibi by Joseph Kanon (2005), a stand-alone mystery/thriller featuring a war crimes investigator from the U.S. in Venice after World War II.
More info

Nonfiction about Venice and Constantinople:
Venetians in Constantinople: Nation, Identity, and Coexistence in the Early Modern Mediterranean by Eric R. Dursteler (2006). More info
Venice and the East: The Impact of the Islamic World on Venetian Architecture, 1100-1500 by Deborah Howard (2000). More info
Byzantium and Venice: A Study in Diplomatic and Cultural Relations by Donald M. Nicol (1989). More info

Online:
Photos of the Byzantine architecture of St. Mark's Basilica in Venice at Sacred-Destinations.com



Back to Historical Novels of the Middle East

Back to Directory of Book Reviews