The Autobiography of Mrs. Tom Thumb
by Melanie Benjamin
Reviewed by Margaret Donsbach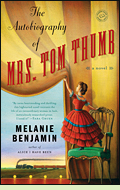 The Autobiography of Mrs. Tom Thumb takes the facts about one of history's more unusual women and infuses the story with such heart that Vinnie Bump, two feet, eight inches tall, becomes as real as the reader's own thoughts. Born Mercy Lavinia Warren Bump in Middleborough, Massachusetts, in 1841, she worked as a schoolteacher in her home town before touring on a Mississippi showboat and then joining P.T. Barnum's employ. In 1863, the extravaganza of her wedding to "General Tom Thumb" displaced Civil War news in the headlines.
Vinnie comes alive as an adventurous, shrewd, ambitious, self-confident and discontented woman: a perfect match for P.T. Barnum, "that humbug feller." In a delicious scene, Vinnie and Barnum finally meet after she has approached him about a job and then insisted he meet her family personally in their home before she will consider accepting. To Vinnie, his manipulation of her parents is transparent and leads her to appreciate him all the more. "I felt my wits quicken with every word he spoke, every move he made, as if he were the sharpening stone and I the edge of the knife. It was as if I had at last found someone with a personality, with dreams, as big as my own."
But when Vinnie marries another tiny performer, and her even tinier sister comes to stay with her, the stage which is indistinguishable from her life is set for tragedy. The public wants the miniature family to have a miniature baby. But in Vinnie's family, all the babies, Vinnie and her sister included, were a normal size when born - too big for a tiny woman to deliver safely. What happens drives a rift between Vinnie and the only other person who truly understands and respects her: Barnum. The Autobiography of Mrs. Tom Thumb is a love story, as subtle as Vinnie's life was unsubtle, as moving as it is unexpected. (2011; 440 pages, including an Author's Note discussing the history behind the story)
More about The Autobiography of Mrs. Tom Thumb at Powell's Books, Amazon.com
, or The Book Depository

Other novels featuring performers:
Magic Words by Gerald Kolpan (2012), about, among others, two brothers who are rival stage magicians in the post-Civil-War years. See review or more info at Powell's Books
Captivity by Deborah Noyes (2010), about Maggie and Kate Fox, sisters who became celebrated in the mid-nineteenth century for their supposed ability to contact the dead. More info
Ragtime by E.L. Doctorow (1975), about a wealthy New England family whose lives are changed when Harry Houdini crashes his car into a telephone pole by their house in 1906. More info

Nonfiction about Mrs. Tom Thumb:
General Tom Thumb's Three Years Tour Around the World by Sylvester Bleeker (1872). More info
The Autobiography of Mrs. Tom Thumb (Some of My Life Experiences) by Countess M. Lavinia Magri, formerly Mrs. General Tom Thumb (1906). More info
Barnum Presents General Tom Thumb by Alice Curtis Desmond (1954). More info

Online:
Sideshow Ephemera Gallery featuring photos and a biographical sketch of Tom Thumb and his family.
Some Recollections: The Story Of My Marriage And Honeymoon , an article by Lavinia Warren which appeared in the New York Tribune Sunday Magazine, October 7, 1906



Back to Novels of Nineteenth-Century America

Back to Directory of Book Reviews