Astray
by Emma Donoghue

Reviewed by Margaret Donsbach Tomlinson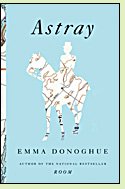 The settings of the fourteen short stories in Astray range from a Puritan colony in 1639 New England to a retirement home in 1967 Ontario, with most clustered in the nineteenth century. All have something to do with migrations: an Irish woman following her husband to America after the potato famine years, inexperienced prospectors seeking gold in the Yukon, a child sent west on an "orphan train," a slave and his master's wife fleeing together after a murder. In many of the stories, the characters' displacement has less to do with geography than with the inner terrain of disrupted assumptions and expectations: a child realizes her parents are not who she thought they were, a young mercenary discovers what he has become capable of while fighting someone else's war far from his homeland. Brief notes after each story describe its historical underpinnings; it's often startling to discover that the situations which seem to stretch the bounds of credibility the farthest are actually grounded in fact.
Historical fiction sometimes seems to demand length to help readers understand an earlier time's customs and habits of thought. Donoghue's stories are short, plunging readers into their settings with strikingly apt snatches of description, like snow that is "bright as children's teeth and squeaks underfoot." Astray drops us into the middle of the characters' lives, relying on the reader's intelligence to suss out motivations and situations - most of the characters have made a conscious decision to migrate, but feel as though the earth is shifting beneath them in ways they could not anticipate. Many of the stories are humorous and heartbreaking at the same time, and many are about the tragic muddles people make of their lives while they imagine they are striving for something better. People still do this all too often. (2012; 271 pages)
More about Astray at Powell's Books
or
Amazon.com
Other collections of historical short stories:
The Red Garden
by Alice Hoffman (2011), linked short stories, some with a touch of magical realism, set in a small town in Massachusetts from 1750 through the present. See
review
or
more info at Powell's Books
Girl in Hyacinth Blue
by Susan Vreeland (1999), a series of linked short stories which follow a Vermeer painting back through time to its genesis in seventeenth century Holland. See
review
or
more info at Powell's Books
The View from Castle Rock
by Alice Munro (2006), a short story collection inspired by the experiences of the author and her Canadian ancestors, beginning with eighteenth-century immigrants from Scotland.
More info
Nonfiction about immigrants and travelers:
Becoming Americans: Immigrants Tell Their Stories from Jamestown to Today
edited by Ilan Stavans (2009).
More info
Immigrant Women in the Land of Dollars: Life and Culture on the Lower East Side, 1890-1925
by Elizabeth Ewen (1985).
More info
The Floor of Heaven: A True Tale of the Last Frontier and the Yukon Gold Rush
by Howard Blum (2011).
More info
Online:
Immigration to the United States, 1789-1930
, a timeline at the Harvard University Library website
Back to Directory of Book Reviews