As Meat Loves Salt
by Maria McCann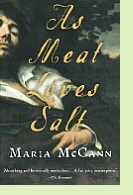 In As Meat Loves Salt, Maria McCann brings seventeenth century England vividly to life in the person of Jacob Cullen, a man whose flaws are deep, but less unforgiveable or intractable than those of the world he was born into. As it opens, Jacob is among the servants dragging a pond for the body of a promiscuous serving maid he despised. From there, the novel gets grubbier. England is at war, with Cromwell's army battling to dismantle the hierarchy of the country. Our hero lands in the midst of the fray.
In a chill rain, the peasant soldiers struggle to learn the drills. "At last we got on to Advance Your Pike, which was done in three motions. I was cack-handed here, and the movement would not come smooth. The pike, which was to be locked between my right shoulder and arm, slipped away and I had to catch it in the left hand before it brained one of my fellow scholars…. As I took the thing on my shoulder the top of my shoe came away from the sole. The pike dropped backwards and the others cried out to me to mind what I did."
The actual warfare is no tidier, with Cromwell's soldiers battering down walls with cannon and rampaging through manor houses with pikes and swords. And yet among these scenes of fear, horror and desperation, Jacob begins to learn what friendship is, and love, as he bonds with an only partially disillusioned fellow soldier. 2001, 565 pages.
This is on my list of The Ten Best Historical Novels I Read in 2008.
More info on As Meat Loves Salt from Powell's Books

Other novels set during the English Civil War:
The Moon in the Water by Pamela Belle and sequels, about a royalist family. More info
Wintercombe by Pamela Belle and sequels, about a Puritan family. More info
Myself My Enemy by Jean Plaidy, about the wife of King Charles I.
More info
The Young Montrose and its sequel Montrose: the Captain General by Nigel Tranter, about a Scottish nobleman who supported King Charles
and Sir Walter Scott's nineteenth century romances:
Old Mortality More info
A Legend of Montrose More info
Peveril of the Peak More info
Woodstock More info

Nonfiction about the English Civil War:
The Causes of the English Civil War by Norah Carlin, 1999. More info
The English Civil War at First Hand by Tristram Hunt, 2003. More info
The English Civil War: Papists, Gentlewomen, Soldiers, and Witchfinders in the Birth of Modern Britain by Diane Purkiss, 2007. More info
A Military History of the English Civil War by Malcolm Wanklyn, 2004. More info



Back to Novels of the Seventeenth Century

Back to Directory of Book Reviews