Artemis
by Julian Stockwin

Reviewed by David Maclaine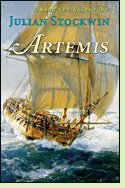 Artemis is the second novel of Julian Stockwin's nautical series on the career of his fictional hero Thomas Paine Kydd. In Kydd, the first in the series, the young wigmaker's assistant learned a hard new trade after he was swept into involuntary servitude on a ship-of-the-line in His Majesty's Navy. At the end of that novel the now-able seaman found himself transferred to a crack frigate so as to sidestep knotty problems of naval justice posed by his extraordinary heroism at a time when he was also on the rolls as a deserter. Happily, his circle of friends share the transfer, and Kydd is soon thriving in his new situation. After his ship wins a fierce single combat against a French vessel, he basks in the glory of victory until events at home conspire to force him into a life on shore that is no longer to his taste. It takes no great prescience to guess that a way will be found to relieve him of this stifling fate and bring him back to his ship in time for a grand voyage to the far side of the world. Soon he must confront the baffling customs of China, an unexpected romantic entanglement, the perils of navigation through the Philippines, and the assaults of South Sea cannibals.
Although Stockwin's style is more modern, his relaxed tone most resembles that of Frederick Maryat, a pioneer of the nautical adventure whose first hero was the aptly named Midshipman Easy. Stockwin's temperament seems likewise easy-going, if a shade less flippant, and the reader finds comfort in his calm assurance during the most extreme and bloody episodes. Though the characters do not yet match the depth of those created by C.S. Forester or Patrick O'Brian, Stockwin's most noteworthy competitors, Artemis easily crosses the first hurdle in establishing a successful series. Kydd's first passage around the world makes it clear he is a companion worth seeking out on future voyages. (2002, 336 pages)
More about Artemis at Powell's Books
or
Amazon.com
Other seafaring novels set during the Napoleonic Wars:
Mr. Midshipman Easy
by Frederick Maryat (1836), #1 in the Midshipman Easy series, by an author who himself served as a midshipman during the Napoleonic Wars (and therefore a contemporary novel when it was written).
More info
Mr. Midshipman Hornblower
by C.S. Forester (1950), #1 in the Horatio Hornblower series, about a sailor who suffers from seasickness and considers himself cowardly despite his numerous feats of bravery and daring.
More info
Master and Commander
by Patrick O'Brian (1970), #1 in the Aubrey/Maturin series about a music-loving British naval officer and his friend who serves as the ship's surgeon.
More info
Nonfiction about naval warfare during the Napoleonic Wars:
Naval Battles of the Napoleonic Wars
by W.H. Fitchett (2007).
More info
British Napoleonic Ship-of-the-Line
by Angus Konstam and illustrator Tony Bryan (2001).
More info
The Campaign of Trafalgar, 1803-1805
by Robert Gardiner (2002).
More info
At the Movies:
Captain Horatio Hornblower
, the 1951 film starring Gregory Peck as Captain Horatio Hornblower.
Master and Commander: The Far Side of the World
, the 2003 film starring Russell Crowe as Captain Jack Aubrey and Paul Bettany as Dr. Stephen Maturin.
Online:
Napoleonic Era Naval Warfare Tactics
at www.thedearsurprise.com

Back to Novels of the Napoleonic Era

Back to Directory of Book Reviews