The Arrows of Hercules
by L. Sprague de Camp
Reviewed by David Maclaine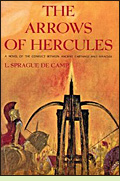 The Arrows of Hercules takes place in the early years of the reign of Dionysius of Sicily. Its hero, Zopyras, is an engineer who invents the first useful artillery of the ancient world, the arrow-throwing machine the Romans would adopt and use for centuries, calling it a ballista. The adventures of Zopyras include a battle against Etruscan pirates, a kidnapping in Carthage, and a taste of a slave auction from the viewpoint of the merchandise. In the process, he makes friends across international borders. The novel's historical merit flows mostly from the glimpses it offers of the different cultures that jostled elbows in the middle of the Mediterranean, with a good survey of the assortment of varied beliefs then prevalent, including an accurate depiction of the era's more matter-of-fact acceptance of nudity.
Much of the fun in The Arrows of Hercules comes from watching an ancient engineer face the incompetent supervisors and production setbacks that figure in the average Dilbert cartoon. Instead of a modern cubicle, the struggle against departmental rivals and bureaucratic snafus takes place in the Tyrant of Syracuse's fortress-complex of Ortygia. De Camp's cheerful narrative voice will be familiar to anyone raised on the great post-war generation of science fiction writers; the author was one of them and dedicates his novel, "To Isaac Asimov and Bob Heinlein in memory of our own Ortygian days." (1965, 297 pages)
More about The Arrows of Hercules at Amazon.com
The Arrows of Hercules appears on the list of The 36 Best Historical Novels for a Survey of Ancient Greek History


Other novels set in Syracuse:
Tyrant by Valerio Massimo Manfredi (2003), about Dionysius of Syracuse. See review or more info at Powell's Books.
The Sand-Reckoner by Gillian Bradshaw (2000), about Archimedes of Syracuse. See review or more info at Powell's Books
The Mask of Apollo by Mary Renault (1966), about the fourth century B.C. philosopher Plato in Syracuse, as narrated by a Greek actor. See review or more info at Powell's Books

Nonfiction about ancient engineering:
Greek and Roman Artillery: Technical Treatises by E.W. Marsden (1971), includes translations from ancient Greek and Latin treatises on weaponry, with information about the repeating ballista used by Dionysius. More info
Greek and Roman Artillery by Duncan Campbell (2003), an illustrated Osprey book. More info
The Art of the Catapult: Build Greek Ballistae, Roman Onagers, English Trebuchets, and More Ancient Artillery by William Gurstelle (2004), a book of projects for children aged 10 and up, which may also interest adults (if only in self-defense). More info

Online:
Ballista at the Military Wiki



Back to Novels of Ancient History

Back to Directory of Book Reviews