Arabella
by Georgette Heyer
Reviewed by Margaret Donsbach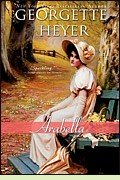 Arabella, the heroine of this compulsively readable Regency romance, is the daughter of a kindly but stern North Country vicar in straitened circumstances. Dazzled by her good fortune when a distant godmother offers her a London season, she is further stunned by the beauty and expense of the gowns, bonnets, muffs and furbelows necessary for the enterprise. She knows her season is not an indulgence but a family responsibility which, despite her sense of guilty pleasure, she takes seriously. She must attract a husband wealthy enough to dower and establish in suitable occupations her seven younger siblings.
On the way to London, her borrowed carriage breaks down near the hunting lodge of the most wealthy – and resistant – bachelor of the smart set. Arabella's besetting flaw is her tendency to impulsive speech when roused into a temper. It gets her in more trouble than usual this time. Snubbing the much-sought-after Mr. Beaumaris, she claims to be an heiress with no interest in marrying money. In short order, she finds herself the toast of the season, ardently courted by impoverished aristocrats and too embarrassed by her deceit to say yes to more eligible suitors.
Quick-witted but inexperienced, Arabella struggles in vain to undo the consequences of her misbehavior as complications mount, forcing readers to wait until the very last minute for the unmitigated happy ending that must, according to the rules of Romance, be coming. Beaumaris's cultured manner masks a mischievous streak that makes him a perfect match for Arabella – if only they can untangle the misunderstandings before the season ends and she must go home to confess her failure.
More humorous than sexy, the novel touches lightly on its hero's physical appeal, playing up his social desirability, charm and essential goodness. Along the way, it offers a sharp critique of a society that valued status-seeking and conspicuous displays of wealth over compassion. (originally published 1949; new Sourcebooks edition 2009, 312 pages)
Arabella is on my "Best Historical Novels I Read in 2009" list.
More about Arabella at Powell's Books or Amazon.com
Interview with Mary Fahnestock-Thomas, editor of Georgette Heyer: A Critical Retrospective

Other Regency romance novels:
Sprig Muslin by Georgette Heyer (1956). More info
The Penniless Peer by Barbara Cartland (1973). More info
The Reluctant Flirt by Elizabeth Mansfield (1981). More info

Nonfiction about Georgette Heyer and her novels:
Georgette Heyer's Regency World by Jennifer Kloester (2005). More info
Georgette Heyer: A Critical Retrospective by Mary Fahnestock Thomas (2001). More info
The Private World of Georgette Heyer by Jane Aiken Hodge (1983).
More info

Online:
When is the Regency Era? at the Regency History website



Back to Historical Novels: 19th Century Europe

Back to Directory of Book Reviews