Appaloosa
by Robert B. Parker
Reviewed by Annis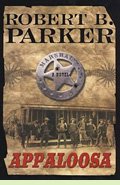 The watchful wild Appaloosa stallion guarding his herd in the hills stirs a sense of kinship in two observers resting on their pommels in the morning sun. Lawmen Virgil Cole and Everett Hitch know that in this time and this austerely spacious place a man, like a stallion, must pay for the freedom he enjoys with constant vigilance against the lurking predator or challenger seeking to supplant him.
It's 1882, New Mexico Territory. The small frontier town of Appaloosa has a problem. His name is Randall Bragg, and ever since he moved in, the town has been going to hell in a handbasket. The corrupt rancher and his mob of hired thugs terrorize the townsfolk, taking whatever they want, whether it be food, drink, women or horses, and gunning down anyone who stands in their way. The town's aldermen agree: it's time to call in the town-tamers.
Cole and Hitch are the best. For fifteen years they've been running pest control, travelling wherever they're called to clean up towns plagued by violent, lawless renegades. A tight team, they act almost as one, so attuned are they to having each other's backs. As they dispose of Bragg's men with unnerving ease, it's soon apparent that Cole and Hitch work to their own law. Appaloosa's alarmed civic leaders realize they just might have brought in a pair of deadly mountain lions to deal with their pack of troublesome hounds. Add a pretty but manipulative young widow, spark to an already volatile mix, and the situation becomes explosive.
Written with sure pace and deceptive simplicity, Appaloosa is a stylish, stripped-down take on the iconic western formula. Letting his trademark laconic, sharp-as-a-tack dialogue drive the narrative, Parker brings an acute understanding of the male psyche to a quintessentially masculine world, outside the bounds of "crampsome" civilized society but still ruled by an unwritten and often idiosyncratic code of honour. (2005; 320 pages)
More about Appaloosa at Powell's Books or Amazon.com

Other novels set in the Old American West:
Resolution by Robert B. Parker (2008), #2 in the series beginning with Appaloosa. More info
The Border Trilogy by Cormac McCarthy (1999), dark literary novels set along the Texas border in the late 1940s and early 1950s. More info
Riders of the Purple Sage by Zane Grey (1912), a classic Western by a master of the genre. More info

Nonfiction about the Old American West:
The West: An Illustrated History by Geoffrey C. Ward (2003), a companion book to the PBS series The West. More info
Age of the Gunfighter: Men and Weapons on the Frontier, 1840-1900 by Joseph G. Rosa (1993). More info
Virgin Land: The American West as Symbol and Myth by Henry Nash Smith (1950). More info

At the Movies:
Appaloosa
, the 2009 movie based on Parker's novel, starring Jeremy Irons, Viggo Mortensen and Renee Zellweger.

Online:
The Code of the West at the Legends of America website



Back to Novels of the American Old West

Back to Directory of Book Reviews