Antony and Cleopatra

by Colleen McCullough

Reviewed by David Maclaine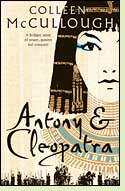 In Antony and Cleopatra both the Roman Republic and Colleen McCullough's extended fictional treatment of that state come to an end. Though this may seem like another case where we already know the story, making us wonder whether historical fiction can add much to our understanding, McCullough once again shows that fiction, when she's writing it, can reveal how much there was to a story that we never knew before.
Her most noteworthy accomplishment is to replace the old image of Cleopatra as selfish, seductive femme fatale with a portrait truer to history: a brilliant stateswoman capable of managing a complex nation every bit as well as she managed great men, undone in the end only because of her fatal inability to understand the deep-seated culture of Rome. McCullough also takes this final chance to display her understanding of ancient military campaigns, from the long struggle of Octavius and his friend and colleague Agrippa against the naval power of Sextus Pompeiius, through the grand catastrophe of Antony's Parthian campaign, and on to an unsentimental, revisionist interpretation of the campaign that ended at Actium. She adds her own distinctive twist to the poignant end of Caesarion, the son of Cleopatra and Julius Caesar, and shrugs off tradition to provide a new take on the Egyptian queen's death by snake. McCullough also neatly dissects the disparate strands of Mark Antony's character. Antony and Cleopatra reclaims what has long been stereotyped as a tale of doomed love. Instead the author builds a more complex and believable story of how cultures collided and how imposing, flawed personalities waged a hard political struggle that ended in the fall of the final remnant of Alexander's empire and the beginning of a new empire ruled by Rome. (2007, 567 pages, including an extensive Glossary with informative and fascinating paragraph-long entries on the customs and institutions of Republican Rome)
More about Antony and Cleopatra at Powell's Books
,
Amazon.com
or
The Book Depository
Antony and Cleopatra
appears on the list of
The 50 Best Historical Novels for a Survey of Ancient Roman History
Other fiction about Cleopatra:
The Memoirs of Cleopatra
by Margaret George (1997), about Cleopatra.
More info
When We Were Gods: A Novel of Cleopatra
by Colin Falconer (2000), about the Egyptian queen.
More info
Antony and Cleopatra
by William Shakespeare (1623), Shakespeare's classic play about the doomed lovers.
More info
Nonfiction about Antony and Cleopatra:
Antony and Cleopatra
by Adrian Goldsworthy (2010).
More info
Cleopatra: A Life
by Stacy Schiff (2010).
More info
Mark Antony
by Patricia Southern (1998).
More info
Online:
Cleopatra
, at the BBC History website
Back to Novels of Ancient History
Back to Directory of Book Reviews