Annexed
by Sharon Dogar
Reviewed by Margaret Donsbach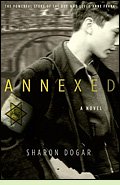 Peter van Pels, the boy in Anne Frank's diary, narrates Annexed. Unlike Anne's story, Peter's must be told as fiction, since he left no diary behind about the two years he spent hiding from the Nazis in a secret annex in Amsterdam.
He was almost sixteen when the two families went into hiding. Anne was thirteen. She wrote about her awakening sexual feelings. She had been strongly attracted to a boy she would never see again. In the novel, Peter also has feelings for someone he can't forget. Compared with this girl, Anne is younger, aggravating, "loud and sure of herself." As the months pass, though, Peter and Anne grow closer. They slip away to talk and share secrets in the attic. Peter is scared he will never make love to a girl. "Don't put this in your diary," he says. In a short, beautifully written scene, they caress each other without taking their clothes off.
Although the novel centers on their relationship, it's not really a romance. It's about Peter's evolving feelings about their predicament as Jews. At first, he is despairing and depressed, annoying the others (and probably most readers) by avoiding chores and imposing his unhappiness on them. Slowly, he begins taking pleasure in small things. Anne talks to him as she can to no one else but her diary. He becomes a support to her in her moments of despair.
This is not a cheerful or fast-paced novel. A repetitive refrain tells of Peter's suffering in the Mauthausen concentration camp after the families were betrayed, a "living death." It offers a realistic look at a terrible time in history. (2010; 341 pages, including an Author's Note and a list of books, DVDs and websites for more information. Recommended for ages 12 and up.)
More about Annexed at Powell's Books or Amazon.com
Article about Peter van Pels by Sharon Dogar

Other novels for teens about the Holocaust and Nazi atrocities:
The Boy Who Dared by Susan Campbell Bartoletti (2008), about Helmuth Hubner, a German teenager imprisoned and put to death in 1942 for resisting the Nazis. More info
The Entertainer and the Dybbuk by Sid Fleischman (2007), about a second-rate ventriloquist who becomes possessed by the spirit of a 12-year-old Jewish boy killed in the Holocaust. More info
Daniel Half Human by David Chotjewitz (2004), about a boy who discovers, to his fury, that he can't join the Hitler Youth organization because he is half Jewish. More info

Nonfiction about Anne Frank:
Anne Frank: The Diary of a Young Girl by Anne Frank (1995: the definitive edition which includes parts of the diary left out of earlier publications). More info
Anne Frank: The Book, The Life, The Afterlife by Francine Prose (2009). More info
Anne Frank: Her Life in Words and Pictures from the Archives of the Anne Frank House by Menno Metselaar (2009). More info

At the Movies:
Anne Frank - The Whole Story
, the 2001 ABC television production, starring Hannah Taylor-Gordon as Anne Frank.

Online:
The Anne Frank House, the website of the museum in the house where Anne Frank and her family and the Van Pels family hid from the Nazis
Anne Frank, the Writer at the United States Holocaust Memorial Museum website