Annamaria Alfieri (Patricia King) Interview
July 31, 2009
HistoricalNovels.info interviews
the author of City of Silver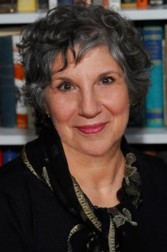 Annamaria Alfieri is the pen name used by author Patricia King for her mystery novel City of Silver, set in 1650 in the wealthy Peruvian (now Bolivian) city of Potosi. It was a pleasure to talk with her about City of Silver on July 31, 2009.

What attracted you to Potosi in 1650 as the setting for a mystery?
Years ago, I had the chance to visit Potosi with some dear friends then living in Bolivia. We left LaPaz in a Land Rover, carrying a week's supply of drinking water! I fell completely in love with Potosi: the romance of its remote location, the beauty of its architecture, and the incredible richness, in every sense, of its history. Back home, I started to read everything I could find about Potosi and soon began the story that became City of Silver.

Your central character, Mother Maria Santa Hilda, presides over a very diverse group of nuns. Is the Convent of Santa Isabella de los Santos Milagros in Potosi completely fictional or did it really exist?
The Convent of Santa Isabella is based on a real convent we visited while in Potosi. The building has been restored and functions as a museum as well as still being a convent. During our tour, our guide spoke Spanish. My husband, who does not understand Spanish, was with me. I did my best to translate the history for him: that in the 17th century, the cloistered convent was for Spanish noblewomen. My husband asked me (I am a graduate of the College of St. Elizabeth in Convent, NJ!) why a noblewoman would wind up in such a place. I gave him six answers that turned into six characters in my head. They were the inspiration for setting the story in the convent.

Many authors wonder whether to use a pen name. What led you to choose yours?
I have written five business books under my legal name: Patricia King (the latest is Monster Boss) and wanted a different "brand identity" as a novelist. Also there are four other Patricia Kings writing nonfiction, and I didn't want to be confused with them. Annamaria was my mother's first name and Alfieri her mother's maiden name. I liked the sound of Annamaria Alfieri, and I wanted to honor those women who were brilliant and capable but never had my opportunities.


---


Review of City of Silver by Annamaria Alfieri
See listing for City of Silver at Powell's Books
See listing for City of Silver at Amazon.com
See author's website at www.AnnamariaAlfieri.com.