Anna Elliott
May 4, 2009
HistoricalNovels.info interviews
the author of Twilight of Avalon
It was a pleasure to interview author Anna Elliott on May 4, 2009, about her novel Twilight of Avalon: a Novel of Trystan and Isolde.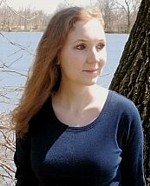 The world of your novel is strikingly different from the romantic image of post-Roman Britain presented in the classic legends of King Arthur. What drew you to write about Britain in the wake of Arthur's death?
Twilight of Avalon was inspired by a very vivid dream in which I told my mother that I was going to write a novel about the daughter of Modred, villain of the Arthurian tales. So I knew from the first that my story was a kind of sequel to the Arthur story, and I loved being able to explore what might have happened after Arthur's death at the battle of Camlann. And since scholars agree that a historical Arthur would have been a 5th-century Celtic warlord, I decided to set my story there, though as you say, it's a far cry from Camelot--a chaotic, war-torn time in which Britain was under siege from invading Saxon tribes.

Isolde is a healer but is, herself, in need of healing from a traumatic past. Do you see a connection?
I absolutely do. I think Isolde's skill and passion for the healer's craft stem at least in part from the fact that she is so much in need of healing herself. She needs to believe that recovery from trauma is possible, but doesn't yet know how she herself can find the healing she offers others. Her journey to true healing plays a large part in the second book of the trilogy, Dark Moon of Avalon, as well.

Your novel is punctuated by voices and visions Isolde experiences amid an almost brutally realistic depiction of Dark Age Britain. Do think of her visions as a fantasy element, or do you think some people actually experience visions like hers?
Although Twilight of Avalon takes place after King Arthur's death, the presence and influence of Arthur, Modred, Morgan, and the other players in the Arthurian legends are still very much felt in Britain. And as I was writing, those same legendary characters were so real in my mind that I started to hear the Arthur story as the series of voices that come to Isolde, each telling their own part of the age-old tale.
In terms of whether I personally believe in the Sight that brings Isolde her visions, I suppose my answer is that I'm sure there are many powers in the universe we have yet to understand. Certainly I believe in a Higher Power and worlds beyond our mortal one and the survival of the soul. And the Arthurian world is a very magical one--which I've always loved. The fantasy elements in Twilight of Avalon are for the most part an effort to honor that magic of the original tales.


---


Review of Twilight of Avalon by Anna Elliott
See listing for Twilight of Avalon at Powell's Books
See listing for Twilight of Avalon at Amazon.com