Angel Time
by Anne Rice
Reviewed by Margaret Donsbach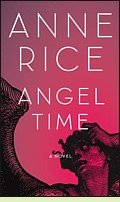 Angel Time is about a present-day contract killer dismayed to be given an assignment in a California hotel near the Mission of San Juan Capistrano, the place he loves most in the world. "Lucky" once aspired to the priesthood, but after tragedy struck his family, he turned his back on religion. He is a man angry at God, at peace only when playing his lute and reading books on history and theology, often in his favorite suite in the Mission Inn.
Not until halfway through does Angel Time become a historical novel. An angel appears to Lucky, offering both heavenly forgiveness and the opportunity to regain his self-respect by using his talents not to kill but to save lives. He is to travel back in time to thirteenth-century England, where a community's suspicion of the Jews in their midst is on the brink of turning into murderous rage.
The prose is skillful and the descriptions of the Mission Inn atmospheric, but the novel lingers longer than necessary on Lucky's moral qualms over his profession and his fairly conventional theological musings. The pace picks up when he is wafted into the thirteenth century. "We were traveling upwards. The day had melted into a fine purple darkness but the darkness was filled with a soft caressing light. Then it shattered into a billion pinpoints of fire." As Lucky returns to Earth, he hears the whisper of frightened prayers rising to heaven: Jewish prayers. Gripped by "the idea that I could do something good in this world," he lands in Norwich in the year 1257 amid an angry mob, and the story takes off.
A traditionally Catholic religious message stays front and center throughout. When Angel Time moves into the past, the message gains more depth and subtlety as Lucky and the angel work to protect the Jews from the fury of ignorant Christians. (2009; 274 pages, including an Author's Note on historical and theological sources)
More about Angel Time at Powell's Books or Amazon.com

Other novels about the persecution of the Jews in medieval Europe:
The Last of the Just by A. Schwarz-Bart (2000), about eight centuries of European persecution of Jews, from an 1185 massacre in York, England, to the rise of Hitler in Germany. More info
Mistress of the Art of Death by Ariana Franklin (2007), a mystery about a woman physician from Salerno sent to England to investigate a series of child murders local Christians blame on Jews. See Review or More info at Powell's Books
Rachel: A Novel of Love and the Talmud in Medieval France by Maggie Anton (2009), about a young Jewish woman in Troyes, France, during the Crusader riots against European Jews. More info
The Fruit of Her Hands: The Story of Shira of Ashkenaz by Michelle Cameron (2009), about the wife of the Jewish scholar Meir ben Baruch of Rothenberg. More info

Nonfiction about the Jews of medieval England:
The Jews of Angevin England by Joseph Jacobs (1893). More info
The Jews of Medieval Norwich by V.D. Lipman (1967). More info
Jews in Medieval Britain: Historical, Literary and Archaeological Perspectives by Patricia Skinner (2003). More info
A History of the Jews in England by Cecil Roth (1941). More info

Online:
A History of the Jews in Norwich at the Culture24 website



Back to Medieval, Angevin Period

Back to Directory of Reviews