The Anatomy Lesson

by Nina Siegal

Reviewed by Margaret Tomlinson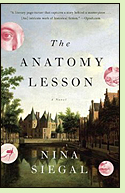 Rembrandt's 1632 painting "The Anatomy Lesson of Dr. Nicolaes Tulp" is the subject of this fascinating, deeply researched novel. The first painting Rembrandt signed with his name (not just initials), it was commissioned by the Amsterdam Surgeon's Guild and depicted Dr. Tulp lecturing on the dissection of a human arm as seven other guild members listened. Rembrandt turned a group portrait paying tribute to the guild members' status into an artwork in which the central image is a dead man's body painted with a dignity and respect reminiscent of paintings of the dead Christ.
The novel closely explores several characters and their relationships to the painting: the doomed thief Adriaen Adriaenszoon, the woman who loves him, Dr. Tulp, Tulp's wife, the Guild's procurer of bodies, the philosopher René Descartes, and Rembrandt. All are portrayed with an unsentimental sympathy that brings them richly to life within the busy, reeking, sometimes dangerous city of Amsterdam, or in the similarly dangerous country town of Leiden where, coincidentally, both the farmer's son Rembrandt van Rijn and the leather-worker's son Adriaen Adriaenszoon were born. Only Adriaen's lover and the procurer are completely fictional. As the novel unveils their lives, the reader is brought inside the story of Rembrandt's first masterpiece to learn why it such a remarkable human document.
If there is a flaw in the novel, it is the stylistic quirk of labeling each chapter with a body part representing that chapter's point-of-view character, which is not always sufficient to immediately identify the character. Some labels are obvious - "the heart" for Adriaen's lover, "the eyes" for Rembrandt - while others sent me flipping back through the first chapters to find out which character I was reading about. The joys of the novel greatly outweighed this inconvenience. By the end, I wanted to travel to Amsterdam to see the original painting. (2014; 271 pages, including a black-and-white reproduction of the painting and an Acknowledgments section listing the novel's most important sources)
More about The Anatomy Lesson at Powell's Books
or
Amazon.com
Other novels about art:
Girl in Hyacinth Blue
by Susan Vreeland (1999), linked short stories which follow a Vermeer painting back through time to its genesis in seventeenth century Holland. See
review
or
more info at Powell's Books
The God of Spring
by Arabella Edge (2005; also titled
The Raft
), about the French artist Théodore Géricault and his painting of a shipwreck.
More info
The Parable of the Blind
by Gert Hofmann (1986), about the six blind men used as models by the Flemish painter Pieter Brueghel for his painting "The Parable of the Blind."
More info
Nonfiction about Rembrandt:
Rembrandt's Anatomy of Dr. Nicolaas Tulp
by William S. Heckscher (1958).
More info
Rembrandt's Eyes
by Simon Schama (1999), a biography of Rembrandt.
More info
Rembrandt: The Painter at Work
by Ernst van de Wetering (2002).
More info
Online:
The Anatomy Lesson of Dr. Tulp
at the Khan Academy website
Back to Novels of the Seventeenth Century
Back to Directory of Book Reviews