The American Heiress
by Daisy Goodwin
Reviewed by Margaret Donsbach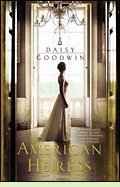 American heiress Cora Cash is the daughter of a staggeringly wealthy father and an ambitious mother in Gilded Age New York. In their social set, keeping up with - or exceeding - the Joneses can involve parties featuring the release of live, gilded hummingbirds. "The other hostesses would think a touch grimly that Nancy Cash would stop at nothing to impress, and in the morning the maids would sweep the tiny golden bodies into a surrendered heap."
For the debutantes of the 1890s, marrying a titled Englishman represented the pinnacle of success. So when Cora, shepherded to England for this purpose, attracts a duke entirely on her own, she can hardly turn him down, especially since he is not only attractive but considerate. It's true that his estate badly needs the infusion of funds she can provide, but he seems to genuinely care more for her than for her money.
Cora's first challenge, a steep one, is learning aristocratic British social customs, so different from the glittering display she is used to. In some ways, the British seem less restrictive - no American blueblood would socialize with actresses and poets. But the lines one must not cross are very real, if sutble, and Cora navigates a treacherous minefield. Her husband proves similarly mysterious. She knows little of his past, and her attempts to please him often misfire, shocking and disappointing him instead.
Although the plot follows a classic historical romance storyline, its focus on Cora's personal growth, combined with an elegantly understated writing style, shifts it out of the genre. Cora is a flawed but ultimately sympathetic heroine. Her cold, anxiously striving mother has been a blundering newcomer in New York society just as Cora will be among the titled English. Cora's lady's maid has complex allegiances, tolerating Cora's unwitting cruelty because she craves the status and opportunities offered by a position usually closed to women of her color. The American Heiress is an unusually assured debut novel. (2010; 468 pages, including an Acknowledgements section mentioning sources and separating fact from fiction)
More about The American Heiress at Powell's Books or Amazon.com

Other novels set during the Gilded Age:
Clara and Mr. Tiffany by Susan Vreeland (2011), about Clara Driscoll, an employee of Louis Comfort Tiffany who designed some of his most celebrated glass lamps and windows. More info
An Inconvenient Wife by Megan Chance (2004), about a woman struggling for emotional health in Gilded Age New York. More info
Prairie Avenue by Arthur Meeker (1949), about a boy who stays with wealthy relatives in Chicago and discovers his adored aunt is not admirable in all respects. See review or more info at Amazon.com

Nonfiction about the Gilded Age:
Consuelo and Alva Vanderbilt: The Story of a Daughter and a Mother in the Gilded Age by Amanda Mackenzie Stuart (2006), about a Vanderbilt heiress whose mother pushed her into a loveless marriage with a British duke. More info
The Glitter and the Gold by Consuelo Vanderbilt Balsan (1952), Consuelo Vanderbilt tells her own story. More info
A Season of Splendor: The Court of Mrs. Astor in Gilded Age New York by Greg King (2008), about wealthy society matron Caroline Astor and her extravagant parties. More info

Online:
Some Gorgeous Worth Gowns, a picture gallery at Madame Guillotine's blog, showing gowns similar to those Nancy Cash would have purchased for Cora



Back to Novels of Nineteenth-Century America

Back to Directory of Book Reviews