Amenable Women
by Mavis Cheek
Reviewed by Annis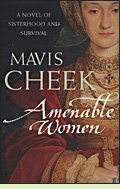 The conceit of a "speaking likeness" is taken to its extreme in Amenable Women, a warm, wickedly funny novel about a modern-day woman and a Holbein portrait of Henry VIII's rejected fourth wife, Anne of Cleves.
Flora Chapman feels a guilty sense of relief when her handsome, charismatic husband, Edward, is killed in a ballooning accident. For years, plain, dependable Flora has played the boring foil for her dashing husband as he embraced one enthusiasm after another, leaving her to pick up the pieces. Fellow residents of the village of Hurcott Ducis smother her in sympathy; Edward was a much admired character in the tradition of the Great British Eccentric. Flora, though, looks forward to becoming a person in her own right.
She finds one of Edward's cast-aside projects, a "History of Hurcott Ducis", which mentions a connection to Anne of Cleves, an object of ridicule for centuries simply because the petulant, aging king didn't find her a turn-on. The unfair irony infuriates Flora: Henry was repulsively obese--and seventeenth-century historian Gilbert Burnet, who first labelled Anne "the Flanders Mare", was downright homely. Flora becomes Anne's champion, seeking out the reality of her life and personality in contemporary accounts. She visits the Louvre in Paris to see Holbein's portrait of Anne, which has its own tale to tell. The warmth of Flora's interest arouses the sentient presence of Anne within the painting, stirring her to muse silently about her life, revealing her side of the story for readers.
Gradually these two overlooked, amenable women become clearly visible figures. As Flora emerges from Edward's shadow, so Anne emerges from the patina of dismissive history, a gracious and pragmatic woman who blossomed after her divorce. She was independent, wealthy, contented, and regarded with esteem and affection. An astute survivor who knew the value of discretion, she was possibly one of the few real winners of the turbulent, dangerous Tudor period. (2008, 336 pages, including a bibliography)
See Amenable Women listing at Powell's Books or Amazon.com

Other novels featuring Anne of Cleves:
My Lady of Cleves by Margaret Campbell Barnes (1976), a biographical novel about Anne of Cleves. More info
The Boleyn Inheritance by Philippa Gregory (2007), about Anne of Cleves, Katherine Howard and Jane Rochford. More info
The Queen's Mistake by Diane Haeger (2009), about Anne of Cleves and Katherine Howard. More info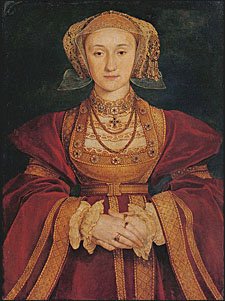 Nonfiction about Anne of Cleves:
Anne of Cleves by Mary Saaler (1995). More info
Anne of Cleves: Henry VIII's Discarded Bride by Elizabeth Norton (2010).
More info
The Marrying of Anne of Cleves by Retha M Warnicke (2000). More info

Online:
Anne of Cleves at the PBS website for The Six Wives of Henry VIII
Wikipedia article on the seventeenth-century Scottish historian Gilbert Burnet



Back to Novels of the Renaissance

Back to Directory of Book Reviews