All This, and Heaven Too
by Rachel Field
Reviewed by Margaret Donsbach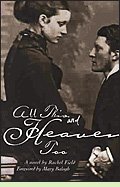 All This, and Heaven Too is the story of Henriette Deluzy-Desportes, the woman at the center of a sensational French scandal in 1847. Twenty-eight and very much alone in the world when she returns to her native Paris after serving as governess in an English family, she must find work immediately. The offer of a position in the aristocratic household of the Duc and Duchesse de Choiseul-Praslin is irresistible, despite a vaguely ominous warning that it is also, "well - let us say difficult."
Nevertheless, Henriette's "heart under the plain gray alpaca basque that was her badge of discreet servitude beat quickly, but with steady self-confidence." The chief difficulty in the Praslin household is the moody and impulsive Duchesse, whose jealousy mounts as Henriette's patient consistency and uncomplaining grace inevitably win the children's affection and the Duc's respect. Though sexual license is not in Henriette's character, the good-looking, long-suffering Duc presents temptations more subtle and difficult to navigate than the obvious ones Paris society leaps to imagine.
Henriette must walk a fine line between giving the Praslin children the emotional support they need more desperately than an education, and betraying her natural affection for them, thereby justifying their mother's furious charge that she is stealing their love. Microscopic attention is devoted to this arduous testing process, while the lurid details of the Duchesse's murder halfway through the novel are touched on more lightly.
After the murder, Henriette faces another grueling test of endurance. She becomes a symbol of the hated French aristocracy and a catalyst for the fall of the monarchy: ironically so, since her sympathies are Republican. At her lowest ebb, she meets the young American minister Henry Field, who will become her link to a remarkable family which includes the man destined to lay the first telegraph cable spanning the Atlantic. But it is Henriette herself who summons the faith and courage necessary to begin a new life in Henry's raw young nation. (1938; new Chicago Review Press edition 2003; a foreward by Mary Balogh and the author's "A Letter of Introduction" contain spoilers, but are worth reading later; an acknowledgements section includes a partial bibliography of sources.)
More about All This, and Heaven Too at Powell's Books or Amazon.com

Other historical novels about governesses:
Forget-Me-Not by Joseph Shearing (1932; also published under the pen name Marjorie Bowen - the author's real name was Gabrielle Margaret Campbell Long), based on the Henriette Desportes story, though the characters' names have been changed. More info
Charlotte and Emily by Jude Morgan (2010; titled A Taste of Sorrow in the U.K.), about the Bronte sisters. Review or More info at Powell's Books
Uneasy Paradise by Norah Lofts (1973; also published as Her Own Special Island), romantic suspense about a young woman who returns to the Caribbean to become a governess. More info

Nonfiction about governesses:
Governess: The Lives and Times of the Real Jane Eyres by Ruth Brandon (2008). More info
The Victorian Governess by Kathryn Hughes (2002). More info
A Governess in the Age of Jane Austen: The Journals and Letters of Agnes Porter, edited by Joanna Martin (2003). More info

At the Movies:
All This, and Heaven Too
, the 1940 movie starring Bette Davis and Charles Boyer, directed by Anatole Litvak

Online:
"Charles de Choiseul-Praslin" at Wikipedia



Back to Historical Novels: Nineteenth Century Europe

Back to Directory of Book Reviews