Alcestis
by Katharine Beutner
Reviewed by Margaret Donsbach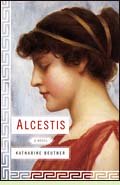 In Greek mythology, Alcestis is an icon of wifely devotion. She was married to King Admetus of Pherae. At Apollo's urging, the Fates allowed Admetus to live beyond his appointed span if someone agreed to die in his place. Not even Admetus's elderly parents would would volunteer to die for him, though. Instead, his lovely young wife, Alcestis, offered herself and was borne to Hades.
In Beutner's retelling of the myth, Alcestis makes this choice less out of love for her husband than through a life-long yearning for death. When her mother dies in childbirth, Alcestis "opened her tiny mouth to suck in the fouled air as if it could replace her mother's milk." A sister dies. At her grave, Alcestis dreams of the earth opening and pulling her "down to the underworld like a sea nymph pulling a pretty sailor over the side of a ship." A royal girl in ancient Greece has little cause to relish life; her role is one of passive waiting, "like an undiscovered island, quiet and empty, skin clear and pure as miles of open shore just waiting for that first footprint, the rut of the hull in the sand."
Though attracted to Admetus, who campaigns determinedly and courageously for her hand, Alcestis finds marriage disappointing. As a husband, Admetus turns diffident (readers may wonder what made him woo her so energetically), directing his passion instead toward his occasional mentor and helper, the god Apollo, whose shining beauty reflects Admetus's emotions "like polished bronze: longing and fear, longing and fear."
Only when Alcestis descends to Hades does she begin to shed her passive role as she searches persistently for the shade of her dead sister. She discovers the counterpart of her husband's feelings for Apollo in her own conflicted feelings for Persephone, the confident, magnetically attractive Queen of the Underworld, whose beauty "spoke of last looks and last kisses, of tears falling unheeded onto cooling skin." (2010, 292 pages)
More about Alcestis at Powell's Books or Amazon.com
Interview with Katharine Beutner

Other novels based on Greek myths:
Medea by Christa Wolf (1996), a sympathetic portrayal of the sorceress who killed her own children after their father betrayed her. More info
Achilles by Elizabeth Cook (2002), about the legendary hero of the Trojan War, who said it was better to be a slave on Earth than a king in Hades. Review or More info at Powell's Books
Ransom by David Malouf (2009), about the Trojan king's visit to the grieving and enraged Achilles in the Greek camp during the Trojan War. Review or More info at Powell's Books

Nonfiction about women in ancient Greece:
Aphrodite's Tortoise: The Veiled Women of Ancient Greece by Lloyd Llewellyn-Jones (2004). More info
Women in Ancient Greece by Sue Blundell (1995). More info

Online:
Euripedes: Alcestis, a summary of the play by the ancient Greek playwright Euripedes, at the website of California State University, Northridge.



Back to Novels of Ancient History

Back to Directory of Book Reviews