Adrienne Sharp Interview
December 14, 2010
HistoricalNovels.info interviews the
author of The True Memoirs of Little K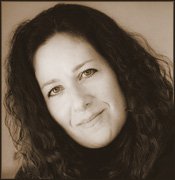 Adrienne Sharp visited the blog December 14, 2010, to talk about her novel The True Memoirs of Little K, about one of the most scandalous Russian ballerinas ever: Mathilde Kschessinska, the mistress of the last tsar. Welcome, Adrienne!

You're a dancer yourself. Was it difficult to imagine dancing in a corset as Mathilde did?
It's almost impossible to imagine, given all the arching and bending of the back contemporary choreography demands and the discomfort of wearing a corset - and breathing in it! But that was the fashion of the time, and the audience expected to see themselves reflected back to them as they watched the stage. By the early 1900s, fashions changed, and some of the younger dancers and choreographers began to laugh at Mathilde's ramrod straight posture and her kicking legs. The stiffly robotic ballerina doll of Mikhail Fokine's 1911 ballet Petrouchka is supposedly a parody of Mathilde.

In your novel, Mathilde claims she would have made a better empress than Alexandra. Do you think she might have?
Alexander III's consort, Empress Marie Feodorovna, was so beloved because she liked to dance, play cards, chat, and hostess - all activities Mathilde adored and Alexandra abhorred, so in that respect, Mathilde would have been ideal as highest ranking woman in the empire - if her humble birth had not prohibited it. Alexandra's paralyzing shyness in public was a real liability to her as empress, a largely social position. However, Mathilde most likely would have been less satisfying to Nicholas as a wife, since she was not a deep thinker or deeply religious. Both Alexandra and Mathilde got in trouble when they tried to involve themselves in political matters - Alexandra for her appointments of incompetent ministers, which led to the revolution, and Mathilde for accepting bribes to throw arms contracts to friends, which caused a serious arms shortage at the front.

Ballet is still patronized mostly by the wealthy and privileged. Do you think there would be a place for ballet in a truly egalitarian world?
Even after the Russian revolution, the imperial ballet, renamed, thrived and was patronized by people of modest means, as it continues to be today. The Provisional Government and then the Bolsheviks underwrote the ballet, just as the tsar once had. The first people to sit in the tsar's box at the Maryinsky Theater after the revolution were commoners who had been sent to Siberia by the imperial authorities. When government subsidies keep ticket prices low enough, the arts are accessible to all. Unfortunately, in the United States, ballet companies rely heavily on private donors and expensive tickets to keep operations running. Who wouldn't go see the ballet, with all its beauty, magic, and story, for $5 a ticket?


---


Review of The True Memoirs of Little K by Adrienne Sharp
See listing for The True Memoirs of Little K at Powell's Books
See listing for The True Memoirs of Little K at Amazon.com