The Admiral's Daughter

by Julian Stockwin

Reviewed by David Maclaine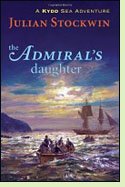 With The Admiral's Daughter, eighth in the Kydd series, Julian Stockwin finally acknowledges a truth previously faced by Alfred Hitchcock and Ron Howard: one cannot indefinitely sustain a run of single-word titles. The young woman referred to by this lavish three-word title is Penelope Lockwood. Her father's rank is only one of many complications that come into play when a budding mutual attraction develops beween her and seaman Thomas Paine Kydd. The social complexities of courtship in Jane Austen's era add an engaging subplot to Kydd's adventures. It mirrors his career at sea by providing occasion for clever stratagems, dismaying setbacks, and one quite delightful ambush. While these social skirmishes draw toward an unexpected climax, a newly resumed war must be fought. Kydd finds himself happily returned to command of his beloved sloop Teazer, although his mission to deal with smugglers and privateers along the south coast of England, convenient for his pursuit ashore, does not promise quite the chance for glory he would prefer. Kydd proves resourceful when facing the challenges of a murderous pirate and a mastermind of the smugglers trade - but is the path to success ashore to be found by following the promptings of his heart?
Author Stockwin rises brilliantly to the challenge of creating a detailed, believable portrayal of the world of traders, smugglers and fishermen in the bays and smaller coves of the English shore. The Admiral's Daughter treats the realm of social etiquette and courtship with ease and assurance, but it's in the perilous world of hidden shoals and sudden storms that the author achieves genuine mastery, spinning the complex dangers of wind and tide into scenes of riveting suspense. (2007, 324 pages)
More about The Admiral's Daughter at Powell's Books
or
Amazon.com
Other novels about naval officers in love:
Persuasion
by Jane Austen (1817), about a spinster who, years after breaking her engagement to a young naval officer because her relatives considered him a social inferior, meets him again and finds that he has risen in the ranks and become wealthy during the Napoleonic Wars.
More info
Beat to Quarters
by C.S. Forester (1937; titled
The Happy Return
in the UK), in this, the first novel Forester wrote in the Horatio Hornblower series (though not the first chronologically), Hornblower is sent to South America, where he picks up a spirited and lovely passenger in Panama and finds himself dangerously distracted.
More info
Post Captain
by Patrick O'Brian (1972), in this second novel in O'Brian's nautical series, Captain Jack Aubrey and his physician friend Stephen Maturin are entranced by the same woman.
More info
Nonfiction about smugglers and pirates:
Smuggling in Kent and Sussex, 1700-1840
by Mary Waugh (2007).
More info
Between the Devil and the Deep Blue Sea: Merchant Seamen, Pirates and the Anglo-American Maritime World, 1700-1750
by Marcus Rediker (1987).
More info
Smuggling in the British Isles: A History
by Richard Platt (2007).
More info
Online:
Smuggling in and around Burton Bradstock
, a history of smuggling in England, especially in the village of Burton Bradstock on the Devon coast
Back to Novels of the Napoleonic Era
Back to Directory of Book Reviews