Across the Endless River
by Thad Carhart
Reviewed by Margaret Donsbach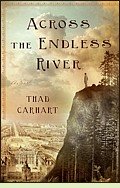 Across the Endless River is about the son born to Sacagawea and her husband, a French-Canadian trapper, during the Lewis and Clark Expedition. From birth, Jean-Baptiste Charbonneau straddled worlds. As a young child, he and his parents lived among the Mandan Indians, but Captain Clark invited the family to St. Louis, where he paid for Baptiste's education and raised him after his parents returned West. At eighteen, Baptiste accompanied Duke Paul of Württemberg to Europe to assist in cataloging his collection of American artifacts and writing of his American travels. Across the Endless River focuses primarily on Baptiste's five years in Europe.
Because Sacagawea's brother was a Shoshone chief, Paul tells Baptiste, "You are almost a duke yourself! ... You will be accorded all the rights of a gentleman at court, and we will work as equals." Baptiste learns, though, that the nobility of Europe are hedged with restrictions unknown to either of his two American cultures. When, entranced, he pauses to watch a group of musicians rehearse, his tutor gently rebukes him. "You are one of Duke Paul's friends and cannot properly be seen to consort with the servants." Yet he does find kindred souls in Europe who, like him, belong wholly to no one place or people.
As they get to work, Paul's attitude toward the clothing, children's toys, peace pipes and other, often personal, objects he has amassed increasingly troubles Baptiste, who in a certain sense is himself part of this exotic collection. Paul's defense, though, is heartfelt and hard to dismiss. Much of the culture of America's native people would soon pass out of existence.
Baptiste is a keen observer. Across the Endless River is filled with vivid descriptions of city streets, palaces and country estates, while the plot moves at a reflective, inner level. With the historical record providing only a bare outline of the real Baptiste's life, Carhart has freely imagined people and incidents which endow his Baptiste with a quiet life of deep meaning. (2009; 308 pages, including an Author's Note separating history from fiction)
More about Across the Endless River at Powell's Books or Amazon.com
Interview with author Thad Carhart
"Imagining the Past in Paris," an article by Thad Carhart about recreating nineteenth-century Paris in his imagination for Across the Endless River.
"Sacagawea: The Seduction of Mythology, the Paucity of Facts," an article by Thad Carhart about Jean-Baptiste Charbonneau's mother.

Other novels related to the Lewis and Clark Expedition:
Charbonneau: Man of Two Dreams by Win Blevins (1975), another novel about Jean-Baptiste Charbonneau. More info
Sacajawea by Anna Lee Waldo (1984), about Charbonneau's mother.
More info
From Sea to Shining Sea by James Alexander Thom (1986), about the parents of William Clark, their ten children and the Expedition. More info
I Should Be Extremely Happy in Your Company by Brian Hall (2003), about the Expedition. More info

Nonfiction about Jean-Baptiste Charbonneau and the Expedition members:
Sacagawea's Child: The Life and Times of Jean-Baptiste (Pomp) Charbonneau by Susan M. Colby (2005). More info
Interpreters With Lewis and Clark: The Story of Sacagawea and Toussaint Charbonneau by W. Dale Nelson (2003). More info
William Clark and the Shaping of the West by Landon Y. Jones (2004). More info

At the Movies:
Lewis & Clark: The Journey of the Corps of Discovery
, the 1997 documentary by Ken Burns, with Hal Holbrook, Adam Arkin, Murphy Guyer, Sam Waterston and Matthew Broderick.

Online:
Jean-Baptiste Charbonneau at the PBS website.



Back to Historical Novels: 19th Century America

Back to Directory of Book Reviews