Across the Blood-Red Skies
by Robert Radcliffe
Reviewed by Annis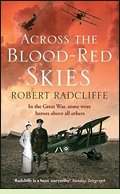 A classic adventure set during the First World War, Across the Blood-Red Skies offers a wild ride with the pioneers of aerial combat. Radcliffe's compelling tribute to the courageous men who fought high above the trenches in their flimsy machines has it all: strong storytelling, sympathetic characters, action, human drama, comradeship and romance.
In a war notable for grim statistics, one number stands out for newly promoted flight leader George Duckwell of the Royal Flying Corps: eighteen hours is the average survival time of a reconnaissance pilot in the spring of 1917. When George heads out on dawn patrol over Arras on Saturday, April 21, he's a veteran. "Finally it was dawning I was actually in charge. And more importantly why. At eighteen years old and with just four months of service with the squadron I was the most senior left in my flight. All the others were dead".
The mission is a disaster. George is shot down, but to his surprise, not dead - yet. "Staring up in wonderment at the grey morning sky, I lay there savouring the sudden stillness and rejoicing in my survival." Trapped in No Man's Land, he's rescued by his friend Mac, a crack Canadian air ace. Mac is a complex man, tormented by dark secrets from his past, and obsessed by his ongoing duel with "The Red Baron", legendary German ace Manfred von Richthofen. The bonds of friendship are sorely tested, though, when George introduces Mac to Emily, a frontline ambulance driver and the girl he's crazy about.
Of the three main characters, it's George's engaging voice that dominates Across the Blood-Red Skies and gives the story much of its appeal. George is immensely likable, a bit of a lad, reckless, loyal, resourceful, and possessed of an irrepressible dry sense of humour. Amid war's bloody, surreal madness, sometimes laughing in the face of fate is the only way to stay sane. (2010; 336 pages)
More about Across the Blood-Red Skies at Powell's Books or Amazon.com

Other novels about WWI fighter pilots:
Winged Victory by V. M. Yeates (1934), a classic novel by an author who served as a Royal Fighting Corps pilot. More info
Goshawk Squadron by Derek Robinson (1971), #1 in the R.F.C. Trilogy. More info
The Blue Max by Jack D. Hunter (1960), about an ambitious German fighter pilot. More info

Nonfiction about the WWI air war:
Flying Fury: Five Years in the Royal Flying Corps by James McCudden (1918), the memoir of a British flying ace's war years, cut off by his death in July 1918. More info
Bloody April: Slaughter in the Skies Over Arras, 1917 by Peter Hart (2006), about the Battle of Arras, in which a third of the R.F.C.'s fighter pilots were shot down in just one month. More info
The First Air War, 1914-1918 by Lee Kennett (1999), an overview of the WWI air war on all fronts. More info

At the Movies:
BlackAdder Goes Forth
, from the BBC's BlackAdder series. Painfully funny yet poignant, nothing captures the insanity of the Great War like this black comedy starring Rowan Atkinson.

Online:
The Battle of Arras and "Bloody April" 1917 at the WWI Aviation website
The "Red Baron" Scores Two Victories, 1917 at the Eyewitness to History website



Back to 20th Century: WWI Europe, Warfare

Back to Directory of Book Reviews