Absolution by Murder
by Peter Tremayne
Reviewed by Susan Gillmor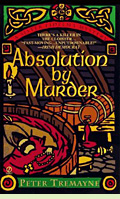 Absolution by Murder is the book that launched Peter Tremayne's Sister Fidelma mystery series, set in seventh-century Ireland. Peter Tremayne is a pen name of Celtic scholar Peter Berresford Ellis, who also writes nonfiction history books, and this mystery series showcases the traditions, legal system, and cultural history of this Celtic people.
Fidelma, sister to an Irish king, is a feisty and independent Irish nun who attends the historical conclave at Whitby in 664, a formal debate intended to settle major doctrinal differences between the Celtic and Roman Churches. When the Abbess of Kildare, Fidelma's mentor and chief representative of the Celtic tradition, is murdered immediately before her scheduled oration, Fidelma is called upon in her role as a renowned dalaigh (legal scholar and Irish advocate for the courts).
In the ensuing effort to unmask and stop a cold-blooded killer, Sister Fidelma is paired with Brother Eadulf, a Saxon follower of the Roman tradition. In a time before celibacy is the accepted path of the Church's clergy, the two clerics nevertheless struggle against a strong physical attraction, clash in their canonical and cultural differences, yet strike a complementary balance in their enforced intellectual partnership. During the unfolding inquiry, they develop mutual respect and the foundation for a lasting bond.
Tremayne's mastery of period detail and his strong depictions of Sister Fidelma and Brother Eadulf draw the reader in, although the secondary characters sometimes seem flat and stereotypical. The book ends with the promise of subsequent adventures and hints at the possibility of future romance between Fidelma and Eadulf.
A foreword provides illuminating particulars about this obscure period in the first millennium A.D. Evidence of a flourishing and enlightened culture in "Dark Age" Ireland peppers the pages of Absolution by Murder along with the satisfying elements of an intelligent whodunit for the mystery buff. (1994, 272 pages)
More about Absolution by Murder from Powell's Books

Other historical mysteries featuring Irish characters and culture:
Dancing With Demons by Peter Tremayne (2008), #18 in the Sister Fidelma mystery series. More info
My Lady Judge by Cora Harrison (2007), set in early sixteenth century Ireland. Review or More info from Powell's Books
Murphy's Law by Rhys Bowen (2001), first in the "Molly Murphy" mystery series featuring an Irish immigrant to New York during the period between the world wars. More info

Nonfiction by Peter Berresford Ellis, who writes fiction as Peter Tremayne:
The Druids (1994). More info
Celtic Women: Women in Celtic Society and Literature (1995). More info
The Celts: A History (revised edition, 2003). More info

Online:
Wikipedia article about the Synod of Whitby