Absalom, Absalom!

by William Faulkner

Reviewed by Margaret Tomlinson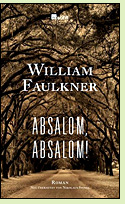 Faulkner's novels are notoriously difficult, and Absalom, Absalom! is no exception. They're also brilliant. Readers who stick with this novel until the end are liable to find themselves considering which Faulkner novel to read next. Many are set in the fictional county of Yoknapatawpha, Mississippi, and focus on the fraught relations between whites and blacks before, during and after the Civil War.
Absalom, Absalom! is told from the perspective of Quentin Compson, a grandson of one of the few friends of Thomas Sutpen, a barbaric, taciturn man of poor white origins who arrives in the county in 1833 with a group of "wild" slaves, a lot of money, and a fixed goal: to build an impressively large plantation house in which to install a wife and beget a son. His story ends tragically; Quentin has learned it in incomplete bits and pieces from a variety of not-always-reliable eyewitness informants. In the novel, he tells his Harvard roommate about Sutpen; the two young men struggle to tease out the truth behind what Quentin has been told. Readers learn the story in much the same way Quentin did and, like him, must work out the sequence of events from a non-chronological onslaught of murky and puzzling details that circle around and around the characters' hidden pasts, details whose implications rise to the surface only gradually.
The stereotypical veneer of Southern graciousness is so thin here, it is almost imperceptible. Instead, the savage reality of slavery dominates: humans treated as livestock; generations of black women raped or coerced into sex by white men, their descendants growing ever more light-skinned without losing the imposed identity of their black ancestors' race. Faulkner's famously long and rambling sentences reflect the Southern habit of submerging brutal facts by not speaking of them while indulging the urge toward revelation with floods of verbiage orbiting ever closer to their real subject matter. Absalom, Absalom! is unforgettable. (1936; most editions between 300 and 400 pages)
More about Absalom, Absalom! at Powell's Books
or
Amazon.com
Other historical novels about slaveowners:
Gone With the Wind
by Margaret Mitchell (1936), about a pampered Southern belle who must adapt to a harsher way of life during and after the Civil War.
More info
The Known World
by Edward P. Jones (2003), about a family of black slaveowners in early nineteenth-century Virginia.
More info
Property
by Valerie Martin (2003), about the wife of a New Orleans sugar planter and the slave she received as a wedding gift.
More info
Nonfiction about nineteenth-century Mississippi
Slavery and Frontier Mississippi, 1720-1835
by David J. Libby (2004).
More info
Prayin' to Be Set Free: Personal Accounts of Slavery in Mississippi
edited by Andrew Waters (2002).
More info
Slavery in Mississippi
by Charles S. Snydor (1933).
More info
Online:
William Faulkner Resigns From His Post Office Job With a Spectacular Letter (1924)
at openculture.com
Back to Nineteenth-Century America
Back to Directory of Book Reviews