A Dead Man in Deptford
by Anthony Burgess
Reviewed by Annis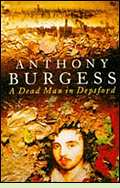 A Dead Man in Deptford is a literary paean to a playwright and poet who introduces himself as "Christopher. The other name is unsure. Marlin, Merlin, Marley, Morley. Marlowe will do". The boy actor who narrates the story of Marlowe's brief, mercurial career says, "it may well be that plain English cannot encompass a life so various, so tortured and contradictory." Accordingly, Burgess recounts it to dazzling effect in the vigorous Elizabethan language of Marlowe's own times.

Kit Marlowe is a bright young scholar at Cambridge University, intoxicated on ideas - the more outrageous the better - and fizzing with poesy, prosody and the splendour of language: "Words were moreover to him more than human reality". A homosexual and freethinker, Marlowe is both too clever for his own good and conspicuous, a dangerous combination during a time of state paranoia: "Thought is a dagger."
He's drawn to the theatre, where his acquaintance numbers noblemen and villains (the two not mutually exclusive), but a chance meeting leads him into the service of spymaster Sir Francis Walsingham and the seedy, violent world of the spy. "Duty with discretion. Sign your name here." But Kit drinks to excess and is incapable of discretion. Although he admires Machiavelli's theories, he's repulsed by the reality of the Machiavellian "statecraft" used to engineer the death of Mary, Queen of Scots. He retreats back to the world of drama and playwriting. As he's been warned, though, "no-one leaves the Service ..."
A vibrant, compelling portrayal of Marlowe's life and times, A Dead Man in Deptford also considers the role of the artist as provocateur, and provides biting commentary on political morality, state repression of individual freedoms, and the justification of dubious means in the names of religion and patriotism. "They love the pain of others", says Marlowe, "for in it their own power is manifest. It is the one thing that men want. Not knowledge, not virtue, but power." (1993; 272 pages)
More about A Dead Man in Deptford at Powell's Books or Amazon.com

Other novels featuring Christopher Marlowe:
Blood and Ink by D.K. Marley (2010), explores the possibility that Marlowe may have been the real author of the plays of Shakespeare. More info
Entered from the Sun by George Garrett (1990), about two men hired to investigate the truth about Marlowe's death four years after the fact. More info
One Dagger for Two by Philip Lindsay (1932) portrays Marlowe as a heterosexual atheist, stabbed to death in a quarrel over a woman. More info

Nonfiction about Christopher Marlowe:
The Reckoning: The Murder of Christopher Marlowe by Charles Nicholl (1995). More info
Who Killed Kit Marlowe? by M.J. Trow (2002). More info
The World of Christopher Marlowe by David Riggs (2006). More info

Online:
Marlowe's Life, a brief summary with links to more detailed information at the Marlowe Society website.
The Works of Christopher Marlowe, links to Marlowe's works online.

Back to Novels of the Renaissance

Back to Directory of Book Reviews
Copyright 2008-2012 HistoricalFiction.info