A Brightness Long Ago
by Guy Gavriel Kay
Reviewed by Margaret Tomlinson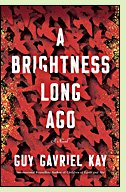 A Brightness Long Ago is billed as a fantasy novel but is really a historical novel in disguise. Yes, two moons appear in the sky, and the place names are invented. But it's about condottieri warfare in fifteenth-century Italy, inspired by the historial feud between the Montefeltro and Malatesta families. Making the novel a "fantasy" allows Kay to invent characters and plot threads without misrepresenting actual people and their actions as he borrows from a dramatic period of history to craft a page-turner that captures the mood, the culture, and many of the events of fifteenth-century Italy.

After impulsively helping an assassin, young Guidanio Cerra is plunged into the middle of a feud between two mercenary commanders. The assassin's target, the Count of Mylasia, is known as "the Beast" for his penchant for molesting and often killing young girls brought to his bedroom for sport. He's also Guidanio's employer. There is more, though, behind the assassination attempt than trying to stop the Beast from preying on the innocent. Everything in this novel, from assassinations to horse racing, has implications layered below the obvious. In a world where cynicism is a survival skill, even an apparent ulterior motive may be a smokescreen concealing the real purpose. Guidanio quickly learns the value of keeping secrets and discovers that winning a lord's favor is sometimes more dangerous than being overlooked. 

A helpful list of principal characters appears at the beginning of the book, something I wish complex novels more often included. That said, I rarely needed to consult it. So distinctive and vivid are the characters in A Brightness Long Ago and so memorable are their deeds—good, bad and ambiguous—it's easy to keep track of who's who. This novel is gripping not just because readers care about characters whose survival is at risk, but also because of the characters' emotional dilemmas. Guidanio is always sympathetic, but readers will not always be sure who among the other characters to root for. (2019, 422 pages including an Acknowledgments section mentioning historical notes and sources)
More about A Brightness Long Ago at Powell's Books
or
The Book Depository
Other historical novels about feuds:
Juliet's Nurse
by Lois Leveen (2014), about the nursemaid of a girl caught in a feud between two families in fifteenth-century Verona, Italy, based on Shakespeare's play
Romeo and Juliet
. See
review
or
more info at Powell's Books
Master of Verona
by David Blixt (2007), about a son of Dante who joins the household of Francesco "Cangrande" della Scala, the lord of Verona, who is feuding with the rival city-state of Padua. See
review
or
more info at Powell's Books
The Outlaw Knight
by Elizabeth Chadwick (2000; also titled
Lords of the White Castle
), about two families feuding over an estate in the Welsh borderlands during the time of King John.
More info
Nonfiction about condottieri feuds and warfare:
Mercenaries and their Masters: Warfare in Renaissance Italy
by Michael Mallett (1974).
More info
Vendetta
by Hugh Bicheno (2008), about the feud between the condottieri commanders Federigo da Montefeltro and Sigismondo Malatesta.
More info
Federico Da Montefeltro and Sigismondo Malatesta: The Eagle and the Elephant
by Maria Grazia Pernis and Laurie Schneider Adams (1997).
More info
Online:
Condottieri
at Wikipedia
Back to Novels of the Renaissance
Back to Directory of Book Reviews