Death on the Ice
by Robert Ryan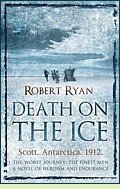 Death on the Ice is an epic tale of the doomed Terra Nova expedition to Antarctica led by Robert Falcon Scott. As he lay dying, Scott recorded the sacrifice of ailing companion Lawrence Oates, who for the sake of the group walked out into a blizzard, commenting, "I'm just going outside and may be some time". A legend in the annals of heroic British defeats, the loss of Scott's party nearly eclipsed Norwegian Roald Amundsen's victory in the race to the South Pole.
In 1912, a search party discovers a tent holding three frozen corpses, one of them Scott's. The British Empire mourns and Scott's journals are published to great acclaim, but five years later Scott's widow looks for help to refute damaging allegations of incompetence and stirs up old memories for surviving expedition member Tryggve Gran.
When Scott set out in 1910, he was underfunded and under pressure to plant the English flag at the South Pole ahead of the Norwegians. The real threat, however, was Antarctica itself: terrifyingly alien, magnificent, and merciless. "Whenever I think of the end of the world", says Scott's fellow Antarctic adventurer and rival, Ernest Shackleton,"I think of it being consumed by fire. But it might be it will end in ice, frozen in permanent stasis."
Bulky figures gaze grimly from a last photograph: Scott's party, frozen in time as one-dimensional characters in an Edwardian "Boys' Own" adventure. Death on the Ice traces the paths which led the explorers to this moment, bringing them to life and, without judgement, letting them tell their own stories. Faced with appalling conditions, disappointment and inevitable death but inspired by heart-felt ideals of honour and patriotic duty, Scott and his men display the self-deprecating stoic spirit expected of true English officers and gentlemen.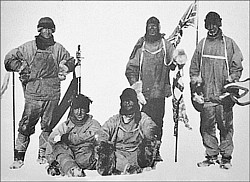 "Had we lived, I should have had a tale to tell of hardihood, endurance and courage", said Scott in his final message. Now, 97 years on, Robert Ryan has told it admirably for him. (2009, 512 pages, including an author's note and biblography)

Listing for Death on the Ice at Powell's Books

Other novels about polar explorers:
The Birthday Boys by Beryl Bainbridge (1995), about Scott's expedition to the South Pole. More info
The Race: A Novel of Polar Exploration by Kare Holt (1976), about the 1911-1912 struggle between Englishman Robert Scott and Norwegian Roald Amundsen to reach the South Pole first. More info
The Terror by Dan Simmons (2006), a Gothic thriller about Sir John Franklin's 1845 Arctic expedition. More info
Victim of the Aurora by Thomas Keneally (1978), a murder mystery set during a 1909 expedition to the South Pole. More info

Nonfiction about the Terra Nova expedition:
Journals: Captain Scott's Last Expedition by Robert Falcon Scott (revised with new material, 2008). More info
I Am Just Going Outside: Captain Oates, Antarctic Tragedy (2006) by Michael Smith. More info
The Great White South by Herbert Ponting (2002), a collection of photographs taken by the Terra Nova expedition's official photographer. More info

Online:
The Doomed Expedition to the South Pole, 1912 at the Eyewitness to History website
Robert Falcon Scott's last message, published in the New York Times on February 11, 1913.



Back to Novels of 20th Century Prewar Europe

Back to Directory of Book Reviews